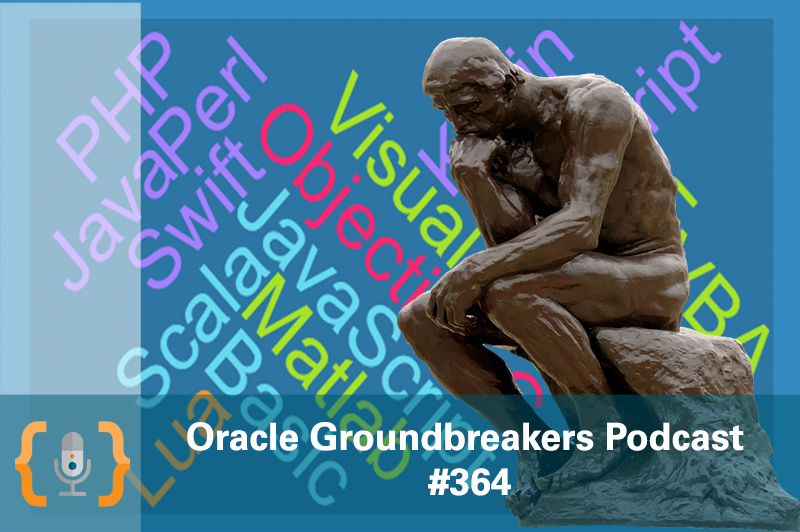 How many programming languages are there? I won't venture a guess. There must be dozens, if not hundreds. The 2018 State of the Octoverse Report from Github identified the following as the top ten most popular languages among GitHub contributors:
JavaScript
Java
Python
PHP
C++

C#
TypeScript
Shell
C
Ruby
So the word "polyglot" definitely describes the world of the software coder.
Polyglot programming is certainly nothing new, but as the number of languages grows, and as language preferences among coders continue to evolve, what happens to decisions about which language to use in a particular project? In this program we'll explore the meaning and evolution of polyglot programming, examine the benefits and challenges of mixing and matching different languages, and then discuss the GraalVM project and its impact on polyglot programming.
This is Oracle Groundbreakers Podcast Number 364. It was recorded on Monday February 11, 2019. Time to listen...
The Panelists
Listed alphabetically
Roberto Cortez
Java Champion
Founder and Organizer, JNation

Dr. Chris Seaton, PhD
Research Manager, Virtual Machine Group, Oracle Labs

Oleg Selajev
Lead Developer Advocate, GraalVM, Oracle Labs
 
Additional Resources
Coming Soon
Dmitry Kornilov, Tomas Langer, Jose Rodriguez, and Phil Wilkins discuss the ins, outs, and practical applications of Helidon, the lightweight Java microservices framework.
What's Up with Serverless? A panel discussion of where Serverless fits in the IT landscape.
Baruch Sadogursky, Leonid Igolnik, and Viktor Gamov discuss DevOps, streaming, liquid software, and observability in this podcast captured during Oracle Code One 2018