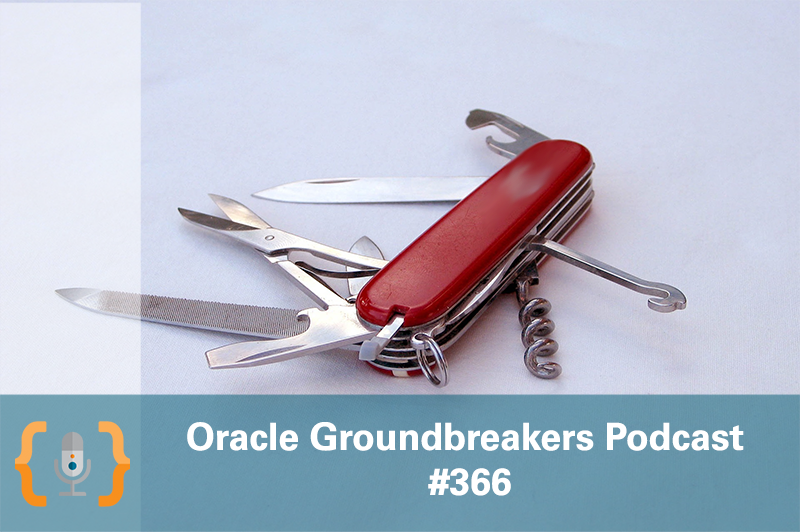 In August of 2018 we did a program entitled Developer Evolution: What's Rocking Roles in IT. That program focused primarily on the forces that are reshaping the role of the software developer. In this program we shift the focus to the DBA -- the Database Administrator -- and the evolve-or-perish choices that face those in that role.
Bringing their insight to the discussion is an international panel of experts who represent years of DBA experience, and some of the forces that are transforming that role.
The Panelists
In alphabetical order
Maria Colgan
Master Product Manager, Oracle Database
San Francisco, California

 
"Security, especially as people move more towards cloud-based models, is something DBAs should get a deeper knowledge in."
Julian Dontcheff
Managing Director/Master Technology Architect, Accenture
Helsinki, Finland

"Now that Autonomous Database is here, I see several database administrators being scared that somehow all their routine tasks will be replaced and they will have very little to do. As if doing the routine stuff is the biggest joy in their lives."
Tim Hall
DBA, Developer, Author, and Trainer
Birmingham, United Kingdom

 
"I never want to do something twice if I can help it. I want to find a way of automating it. If the database will do that for me, that's awesome."
Lucas Jellema
CTO/Consulting IT Architect, AMIS
Rotterdam,Netherlands

 
"By taking heed of what architects are coming up with, and how applications and application landscapes are organized and how the data plays a part in that, I think DBAs can prepare themselves and play a part in putting it all together in a meaninful way."
Brendan Tierney
Principal Consultant, Oralytics
Dublin, Ireland

"Look beyond what you're doing in your cubicles with your blinkers on. See what's going on across all IT departments. What are the business needs? How is data being used? Where can you contribute to that to deliver better business value?"
Gerald Venzl
Master Product Manager, Oracle Cloud, Database, and Server Technologies
San Francisco, California

 
"When you talk to anybody outside the administrative roles -- DBA or Unix Admin -- they will tell you that those people are essential the folks that always say no. That's not very productive."
Additional Resources